Create a Beautiful Living Space with Outdoor Wall Hanging Decor !
Outdoor wall hanging decor is a wonderful way to personalize and enhance your outdoor living space. I enjoy going to people's homes when they have taken the time and care to use some of the beautiful outdoor decor to make their outdoor space their own. My friend had a new wooden fence put in her back yard, and she has it decorated with metal butterflies and lizards, and she placed some solar lights around it and a few other items, and it looks so nice! It's fun and inviting and shows that she cares for her home.
I've selected some pretty outdoor living decorating ideas that I personally love and would enjoy using for my outdoor space.
If you have a front porch or back yard deck area, consider some wall decor for your house's exterior. It will add beauty to your porch and deck decor and will make a big impression on guests when they see it.
You can also place wall decor on your fences (white wooden fences look especially nice when decorated), sheds, garage exteriors and so on. Even your mailbox post and other fence posts can be dressed up with pretty hanging decorations!
In a Hurry? CLICK HERE to see many gorgeous choices for Outdoor Wall Hanging Decor
This two-sided clock can be hung on any outdoor exterior wall or post in your yard. It's great when you have pool or garden parties. A clock helps keep you on time and reassures you of your schedule. This one rotates, so you can place it forward facing or sideways as shown here. It makes a wonderful housewarming gift, too!
Outdoor Wall Hanging Decor Ideas
Metal decor looks lovely on fences, garages, sheds and posts.
A garden flag can be hung as a wall hanging outdoors.
Clocks are attractive and serve a great purpose.
Hang nautical items on the fence that surrounds your yard. Include fish, lighthouses and more.
Lanterns make awesome decorations for outside, and they give off needed light when it's dark.
Planters can be hung on the exterior of your home, on fences and on posts. Add your favorite flowers or plants to add color and natural elements to your decorations.
Black Wrought Iron Outdoor Wall Decor
WA-205 Wall Art Style 205 Wall Hanging
Village Wrought Iron WEL-44-L Large Pineapple Welcome Sign
Gifts & Decor Metal Rooster Wrought Iron Outdoor Garden Yard Statue
Deco 79 63345 3-Piece Metal Outdoor Plant Stand Set, Round
&
Black wrought iron outdoor wall decor always stylish and attractive. It goes well with any decor style and colors that you already have in your living space outside. Add some lanterns and other wrought iron decorations for a pretty look with a Spanish flare!
&
Cool Turtles for Your Outdoor Wall Art Decorations
Next Innovations WA3DTURTLE SET CB Sea Turtle Designs Refraxions 3D Wall Art, Set of 3
How about some friendly turtles to add to your outdoor wall hanging decor. These little fellows are especially bright and cheerful. Giving a wonderful conversation piece.
Beautiful Decorative Outdoor Wall Hangings from Wayfair
Wayfair is known for their quality and beautiful choices of all home decorating and accessory pieces. This area of interest is outdoor decor. Wall hangings and decorating ideas frequently incorporate metals and distressed woods. But weatherproofing is essential for long wear and beauty throughout the seasons. Most of the outdoor pieces could also be used indoors if space were limited or outdoor entertaining is not your habit. These pieces are truly beautiful and unique wall hanging decoration ideas.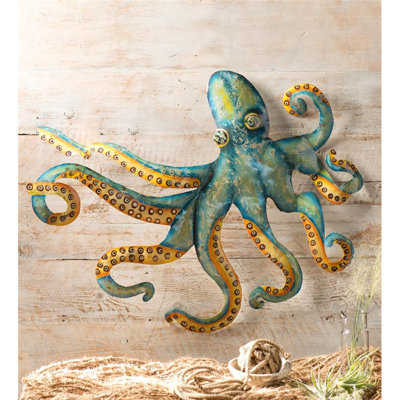 Handcrafted Metal Octopus Wall Décor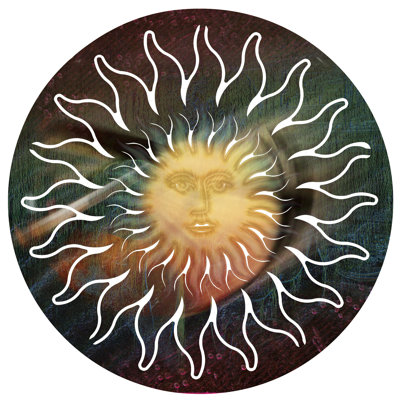 Sunface 3D Metal Wall Décor

Ship Wheel with Anchor Wall Décor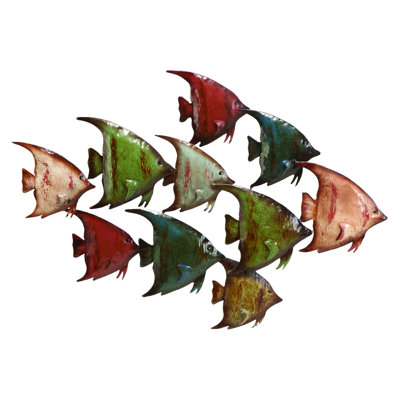 Metal Fish Wall Décor

&
I have only chosen a few of the many beautiful outdoor decorating pieces available at Wayfair. A search for even more wall art decor may be in order for you if you are still looking. Click Here for more outdoor hanging wall decor ideas. And remember Wayfair offers free shipping.
Very Large Outdoor Wall Hangings
Home Wall Decor Indoor Outdoor Sculptures
This is a particularly beautiful outdoor wall hanging decor idea. It is very large and a real centerpiece of your outdoor living space and this stunning piece has a dual purpose. Not just to be a stunning show piece but has a functional use as a plant trellis.
it can be hung horizontally or vertically to suit your wall space. Also I can see attaching other garden displays like metal butterflies or dragon flies or even metal flowers to add more dimension. A truly lovely piece.
How About Hanging Planters for Outdoor Wall Hanging Decor? Great Idea! (A Video)
This video gives you instructions to bring this idea to life
Another Type of Wall Hanging Planter For Your Outdoor Space
Tuscan Wrought Iron Hand Forged Wall Planter Baskets Set of 3
An exceptionally beautiful wrought iron wall hanging planter. Unique to your outdoor living space. Could be equally beautiful with greenery from the nursery garden or faux greenery that will last all year long.
These wall mounted planters are hand crafted and unique in that no two will look the same. Think of the beautiful ways you could fill and display this in your outdoor wall hanging decor living space.
&
3D Metal Wall Art For Outdoor Wall Hanging Decor Ideas
3D metal wall art is rust resistant and comes in a beautiful array of designs and glorious colors that will liven up any area of your outdoor living space! The designs here can be used in a variety of settings and will add interest and design to your yard and home.
Mix and match or buy a few of the same design and get creative in your back yard area! You'll have so much fun decorating with 3D metal wall hangings!
Next Innovations Sun Face Refraxions 3D Wall Art, Blue and Red
Next Innovations WA3DSBFLYMULIT Butterfly Refraxions 3D Wall Art, Small, Multi
Nature Inspired Metal Butterfly Wall Art Trio
Decorative Set of 4 Metal Wall Frogs
&
You May Be Interested In:
Decorative Garden Wind Spinners – Attracting Light to Your Garden
Popular Pink Baby Bedding We are presenting to you beautiful choices of pink baby bedding. If you are preparing to welcome a little girl into your family, we hope to help you. There's so much to do in anticipation of adding a new family member. One of these tasks is preparing a space for your new…
Have A Look At This
More great Outdoor Wall Hanging Decor Ideas On eBay
[ebayfeedsforwordpress feed="http://rest.ebay.com/epn/v1/find/item.rss?keyword=%28outdoor+wall+hanging%2Coutdoor+wall+decor%29&sortOrder=EndTimeSoonest&programid=1&campaignid=5337589871&toolid=10039&listingType1=AuctionWithBIN&listingType2=FixedPrice&lgeo=1&feedType=rss" items="10″]
I love decorating and I truly believe decorating our homes includes the outdoors as well as inside. I hope this page of Outdoor Wall Hanging Decor Ideas  as given you some pause for thought and let your imagination soar. Enjoy!!
Haven't Found What You Were Looking for? Search Again Here:
Use Our Free Gift Finding Tool Below: